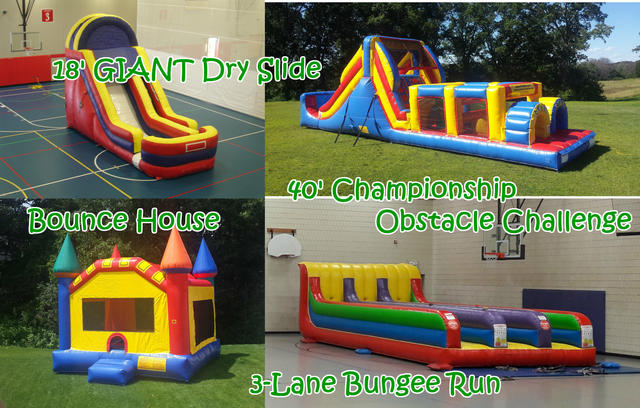 The Hoppin' Froggy Hops UPGRADED Package
Setup Area: For your children's safety, we require a 6 foot clearance around the entrance and exit & a 6 foot clearance from any overhead lines.
Outlets: 4 Electrical outlets required. Froggy Hops provides a 12 gauge outdoor extension cord that is 100 feet long for each inflatable. This is included for FREE with every inflatable rental!




This Discounted Party Package comes complete with:
1 - Inflatable 3-Lane Bungee Run
UPGRADED: 1 - 40' Championship Obstacle Challenge
1 - 18' GIANT Dry Slide
1 - Fun-Filled Castle Bounce House
Reserving these individual pieces would cost $1,186.00. Reserve this Package Deal online and SAVE $207.00!
Froggy Hops specializes in the organization of events of all sizes! We have tons of experience working with local schools, non-profits, and churches for carnivals, picnics, fundraisers, and more! We offer FREE delivery to most of the Twin Cities metro and FREE set-up and take-down (even indoors!). We encourage you to consider including Froggy Hops inflatables at your upcoming event! Customized quotes are FREE!
Features of the 40' Championship Obstacle Challenge:
Over 40 Feet of Obstacles
Colorful Classic Design
Themed for Boys and Girls
Fit for Ages 2-102
Tunnels
Vertical Inflatable Pop-Ups
Squeeze-Play Obstacles
Horizonal Inflatable Log Obstacles
Climbing Walls
13' Tall Slide
Inflatable Safety Ramp Entrance
Side Windows with Safety Netting
Safety Netting on top of Slide
Staggered Climbing Grips
Non-Wax Slippery Slide Surface
Inflatable Safety Slide-Stop
Combined Total Weight of Participants Not to Exceed 600 lbs
Features of the Classic 18' GIANT Dry Slide:
18 Feet Tall
Popular Colorful Design
Themed for Boys and Girls
Side Entrance and Exit
Inflatable Safety Side Walls
Easy-to Grab Climbing Belts
Easy-to-Handle Ladder Steps
Safety Netting
Non-wax Slippery Slide Surface
Protective Sun Shades
Fast-Moving Lines
Combined Total Weight of Participants Not to Exceed 500 lbs
Features of a Fun-Filled Castle Bounce House:
Classic Castle Design
Themed for Boys and Girls
Spacious
Inflatable Safety Ramp Entrance
Netted Crawl-Through Opening/Safety Door Closure
Large Netted Vent Windows
Tiered Covered Roof
Combined Total Weight of Participants Not to Exceed 500 lbs
Features of the Inflatable 3-Lane Bungee Run:
Colorful Design for Boys and Girls
Recommended for ages 10 and older
3 Lanes for Maximum Participation
Vests to fit Various-Sized Participants
Easy-to-Operate Vests
Velcro Batons
Viewer Entertainment Included!
Combined Total Weight of Participants Not to Exceed 600 lbs